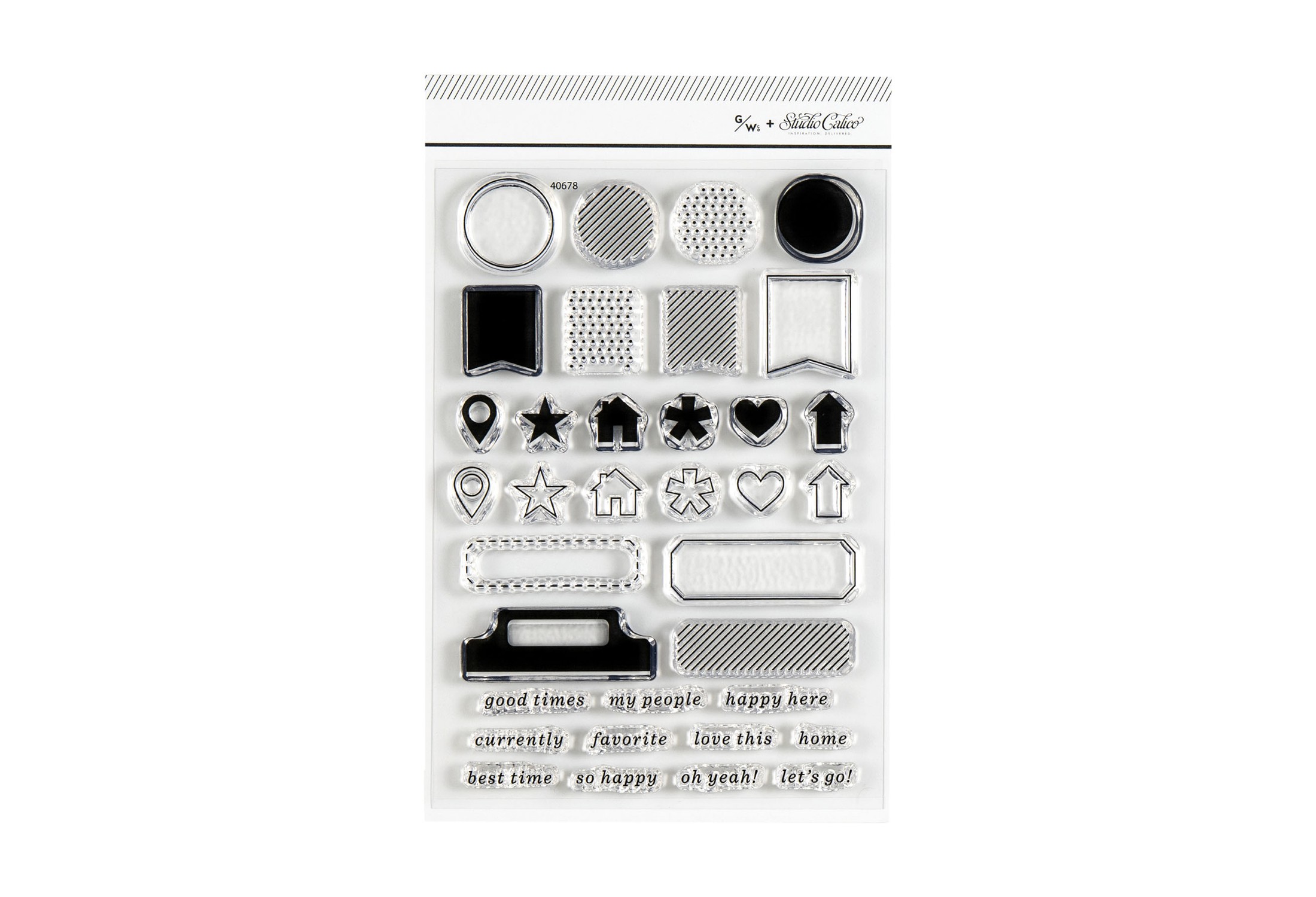 Class Kit
No longer available.
Kit contents:
While supplies last, Day by Day students will receive this stamp set FREE! This 4x6 stamp set by Goldenwood Co will ship free, no matter where you are.
Let the classic and versatile Day by Day Class Stamp Set lend a helping hand in your 2019 documenting. Outline and filler circles, banners, and icons make up this must-have set. And don't miss the labels and phrases—perfect for any favorite moment you'll want to record. This is one stamp you'll reach for over and over again!
---
What you'll learn
Organization tips for storing Documenter supplies
Tips for storing cards and keep all basic supplies within reach
How to select an album size that's right for you
Photo editing and printing tips
Different ways to add journaling to pocket pages
Tips for adding text directly onto photos, flip-up cards, etc.
Journaling options for people who don't like to journal
Design-focused techniques for balancing color and all the elements on a page
Tips for including different types of embellishments and stamping in your pocket pages
Ideas for how to include special events
Ideas for supplemental memory keeping to do alongside Documenter projects
---
Sarah Zayas
Hi, everyone! I'm Sarah and I live in sunny Southern California with my husband, our baby girl, and the happiest, most energetic golden retriever named Nugget. In my free time, you'll either find me relaxing with my family, reading (I'm a bit of a bookworm!), traveling (these days, it's usually little day trips not far from home), and of course, playing with pretty papers and embellishments in my craft room.
---
What comes with this class
8 lessons and 10 videos from Sarah to help you keep on track with your pocket-based memory keeping in the new year
Inspiration in the form of 4 brand new projects from Sarah, extra pages from her albums to help illustrate class concepts, and additional project ideas to supplement your pocket page documenting
Digital version of the exclusive class stamp set for an added level of project personalization
Access to a class message board and gallery where you can share and learn with your teacher, contributors, and fellow students
Challenges to inspire you to use what you've learned